The findings also reveal half of all single items reported in 2020 were either plastic or contain plastic, over 40% of rubbish found within parks is plastics and packaging continues to dominate rubbish counts, representing 49.8% of all reported rubbish during the year.
The claims are further substantiated with research by the Pact Group showing more than 1 in 3 Australian households were producing more packaging waste during lockdown periods and 55% of Aussies saying they are now more concerned about product packaging waste than they were in 2019.
Clean Up Australia Chairman, Pip Kiernan, commenting on the findings, noted that it is more important than ever that all Australians take action to curb the growing increase in single-use plastics.
"This year's Rubbish Report told us that much work is still to be done, with plastics continuing to rise," said Ms Kiernan. "Last year saw immense disruption to our lives and the environment.
Over the past twelve months, the uptick in single-use plastics including face masks, coffee cups, food delivery packaging and takeaway utensils has been concerning. The damage of single-use plastics left in the environment will outlive us all and action is urgently needed.

"We applaud the South Australian government; their ban on single use plastics kicks in next month, with Queensland and ACT to follow. We encourage all other state and territory leaders to join us in reducing the impact of single use plastics" added Ms Kiernan.

"In 2020, Clean Up Australia's volunteers removed 17,000+ ute loads of rubbish, with more than 650,000 volunteers Stepping Up to Clean Up and committing more than 1.3 million hours of volunteer time. To them, we say thank you," said Ms Kiernan.

However, it is also clear that small stuff is an issue. Butts, wrappers, lids and pieces of glass dominate the Top 10 list, accounting for 30% of Top 10 reported rubbish. While decreasing their percentage representations, cigarette butts remain the # 1 item reported by volunteers. Albeit small in size, the environmental impact of a cigarette butt cannot be underestimated. Leaching toxins and leaving small pieces of plastic in their wake – every littered butt provides immediate and long-term danger to our precious flora and fauna.

"We can't rest on our laurels – we are urging Aussie communities, schools and businesses to Step Up on Clean Up Australia Day; every little bit they do has a real and lasting impact," added Ms Kiernan.

Chief among the report findings were several notable changes from 2019:
As a percentage of types of rubbish reported, plastics increased by 5%, glass by 4% and paper by 1%.
Packaging continues to dominate rubbish counts representing 49.8% of all reported rubbish during the year.
This is on-par with 2019, during which packaging represented 50.3%.
Plastics at 36% of all reported rubbish are the most common item reported across all locations, with 40.6% of plastics found within our parks and 31.7% found within our waterways.
While decreasing their % representations, cigarette butts remain the most common item reported by volunteers.
In 2020 they represented 16.2% of all reported rubbish which is a welcome decrease of 5.8% over 2019 but more work is to be done.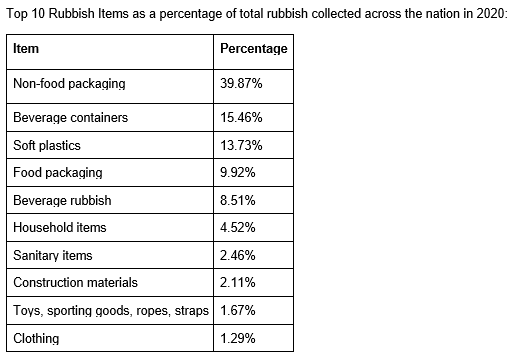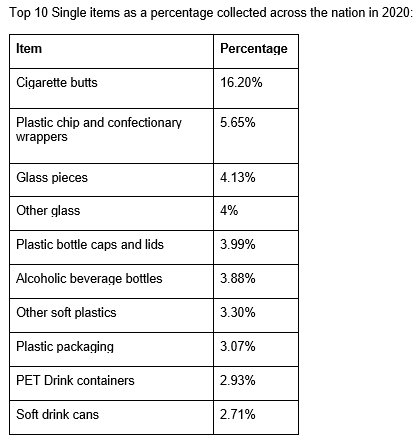 * Quantum Market Research, Pact Group Community Attitudes to Waste and Recycling Report, July 2020
This is a blog written by our friends at Clean Up Australia. Step Up and create an event for Clean Up Australia Day on Sunday 7 March – or any day of the year by visiting their website, here!